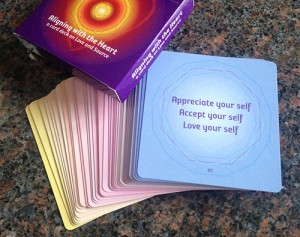 Aligning with the Heart Card Deck
The Aligning with the Heart card deck includes 45 cards with different statements and intentions about love. Each card  sweeps away ideas and emotions around romantic love, and invites you to step into the True Love that is always available, the love that is Source, the love from within.
45 cards printed on heavy card stock with gloss finish and rounded corners in a flip-top box. Cards measure 3.5″ / 8.89 cm square.
What they say
We keep them on the table and draw one before every meal. They warm our hearts!

D. W.

The love cards are fabulous!

K. M.