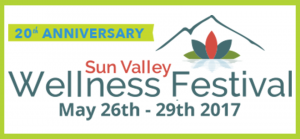 Just to let our fans in the West know, we will be exhibiting at the Sun Valley, Idaho Wellness Festival over Memorial Day Weekend this year! The event has an amazing lineup of speakers and workshops, and wellness advocates of all kinds.
We will be in the Experience Hall from Friday to Monday. Hours are:
Friday, May 26: 12:00 – 6:00 pm
Saturday and Sunday, May 27th & 28th: 9:00 am – 6:00 pm
Monday, May 29th: 9:00 am – 2:00 pm
If you are in or around beautiful Sun Valley, stop by the Festival and say hi!